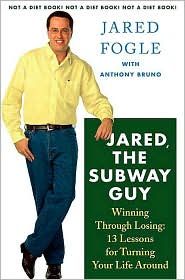 One of the reasons that we find it difficult to lose weight permanently is the length of time it takes to do it healthfully. Over the long haul, good habits can break down, enthusiasm can wane, and we sometimes find ourselves struggling to keep our commitment to our healthy living goals.
Staying motivated is a skill in and of itself.  Finding methods to keep on going – such as journaling, support groups, reading inspirational quotations – is also a part of a healthy lifestyle.  Everyone is different, of course, so you need to find your own source of inspiration.
Who or What Inspires You?
Weight loss success stories are often inspiring.  That's why commercials often feature celebrities to tout their weight loss programs or products.  Some TV ads, like Subway, even turn ordinary folk (need I say Jared?) into household names.
Inspiring people and stories are my personal favorite source for motivation. Just this past Friday, CNN posted an article about a college student named Brandon Hollas who was able to lose 180 pounds – not by a gimmick or fad diet – but by educating himself about nutrition and exercise.
"I can remember lying in my dorm room at Texas A&M … with my large stomach weighing me down in bed," Hollas remembered. "I told myself, 'I have to change and I have to do it now or it won't ever happen.' "

Around the same time, he had another wake-up call. His 11-year-old cousin was diagnosed with Type 1 diabetes and his grandmother was diagnosed with [type 2 diabetes], or adult onset diabetes. Their diagnoses combined with a family history of obesity to convince Hollas he had to make a change.

Hollas also joined the recreation center on campus and started riding an exercise bicycle. He lost 50 pounds within six months. The weight loss motivated him to begin learning about health and fitness at the school's library and in men's health magazines.

"I wasn't educated about how to eat right or how to lose weight," Hollas recalled. "I read all about nutrition, how to change meals to make them [healthier]."

(Source: read full article at CNN.com)
As Hollas, now 25, will tell you, there are 'no fast, easy ways out of being heavy,' but the concept is simple. Determination, self-education, and perseverance in adopting a healthy lifestyle are key elements in achieving weight loss success.  We can help you adopt a healthy lifestyle, too, at Green Mountain at Fox Run, an adult weight loss camp like no other.
Let us know what inspires you!